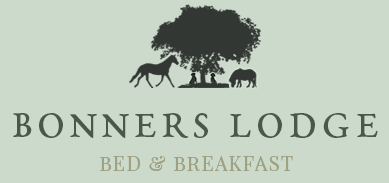 Introduction
This access statement does not contain personal opinions as to our suitability for those with access needs, but aims to accurately describe the facilities and services that we offer all our guests.
Bonners Lodge is located on the edge of the North Pennines/Northumberland Border in a semi-rural area situated just off the A68 between Tow Law and Castleside. We have two guest rooms; one king room with en-suite shower room and a further super king bedroom with an en-suite shower room and additional sofa bed.
There are plenty of walking and cycling routes that you can join directly from the house.
The house has been recently refurbished. Whilst we aim to meet the needs of all our guests there are some areas of the house which might make access difficult for people with limited mobility.
We look forward to welcoming you. If you have any queries or require any assistance please phone to discuss.
Pre-Arrival
The nearest bus stop is in either Tow Law or Consett which are 5-6 miles from Bonners Lodge.
Traveline North East provides comprehensive timetable and fare information for all local bus, metro, train and ferry journeys throughout the North East Tel: 0871 200 22 33 or http://www.travelinenortheast.info .
There are plenty of local taxi firms, and we have a list or can make a booking on your behalf.​
Railway stations can be found at Bishop Auckland, Durham and Newcastle upon Tyne.
Nearest Airport is Newcastle international 24 miles 35 minutes' drive.
Menus can be provided in large print if required..
We have a comprehensive website www.info@bonnerslodge.co.uk
You can contact us via phone, text, email or even the Royal Mail (details above and below).
For full details and maps of how to reach us please see the Location & Contact section of our website.
The nearest shops are approximately 5 miles away in Tow Law or Consett.
We welcome guests' pets in the silver room and of course welcome assistance dogs in both rooms.
Car Parking and Arrival
There is plenty of private parking which is lit via a motion sensor light.
The ground on the parking area is of concrete material and is a little uneven in areas. This leads onto a tarmac base leading to the choice of entrance.
There is a locked building to house bikes and motor bikes.
Assistance will be given with luggage on arrival.
Entrance one.
There are 3 steps of tile material 15cm deep by 1.6 m wide into a small porch 8cm high. Door width is 73cm wide.
Porch is 1.3 m wide and has a step into the hallway of 17cm.
There is one step of 13cm height in the hall which runs the length of the house.
Hallway width is 1.2 m wide narrowing to 73cm when passing sideboard where guests are asked to register. There is one open sided chair for guests to use here. The area is well lit with overhead lights and a lamp on the sideboard.
To the right of entrance one is the door (width 73cm) leading to lobby area with access to the dining room and the guest lounge.
Entrance two.
Accessed by a concrete ramp width of 1.4 m length 4.4 m.
One step into lobby area which leads to dining room and guest lounge of 17cm height width 76cm.
Guest lounge door width is 73cm and double door to the dining room is 1.5 m wide.
In this area there is a unisex guest toilet with access door of 59cm width. Small room with toilet of 43cm height.
All of the hallway and lobby area is covered with porcelain anti-slip tiles and the dining area has a polished wood floor.
The Hallway gives access to the two bedrooms.
The Green Room
Entrance door width is 73cm. Short pile carpet flooring.
King size bed width 152cm length 201cm, height to top of mattress is 60cm, passing distance between end of bed and wall is 50cm wide.
There is a step down into the en-suite shower room of 15cm and the step into the shower is 18cm. The toilet is 42cm height with no access from the sides. (See photo on website) There is a flat fronted basin height 88cm. Electric shower in the cubicle. Door width 56cm tray size 1400cm x 800cm. Anti-slip mat provided for the shower cubicle floor.
There is one chair in the room with high sides.
There is a flat screen TV with remote control, teletext, free view, subtitles and a DVD player and alarm clock radio are also provided.
Silver Room
Entrance door width is 73cm and the flooring is wood.
Super King size bed width 183cm length 201cm height 58cm.
Access along either side of bed is 45cm.
Ensuite shower room door width is 56cm.
Step into shower cubicle is 18cm high. Mains water pressure shower.
Shower tray is 1200cm X 900cm Door opening 46cm. Anti-slip mat provided for the shower.
The toilet is 42cm high with no access from sides. (see photo on website) There is a flat fronted basin height 86 cm.
There is a leather sofa bed to use as seating which will be pulled out for use as a bed when requested by guest.
There is a flat screen TV with remote control, teletext, Freeview, subtitles and a DVD player and alarm clock radio are also provided.
Dining Room
Double door access as described above.
Natural stone dining table which can seat 6 people. On request a two seater table can be made up for breakfast in the lounge.
Six open sided chairs with high backs.
Underneath table height is 70cm.
Double French doors opening onto a small patio area.
Guest Lounge
There is a comfortable area for guests to relax in with lovely views over the countryside.
Log burning stove is lit for the guest's enjoyment on the colder days.
3D TV with SKY TV and DVD. There are a selection of DVDs and board games for the enjoyment of our guests and also a toy box for any younger members of the party.
Outdoor space
There is an enclosed garden which leads through to our "Pixie Dell "that can be used to let your dog's run free but please pick up your dog mess immediately (bins provided for the disposal of dog waste). There is an outdoor dining table and chairs for guests use and a play centre of swings/slide/glider available for the younger ones. Children must be supervised at all times.
Additional information
Assistance dogs are welcomed.
Mobile phone reception is generally good.
We are able to use both entrance doors in the need of evacuation. There is also a fire evacuation window in the silver room and a door from the dining room also leads directly outside. Full details are given in the fire plan in the room booklet. If you require more assistance for evacuating please notify us on arrival and we will ensure you are evacuated safely. Example if you have a hearing impairment.
There are two smoke alarms fitted in the hallway outside the bedrooms, and one in the hallway between the dining room and the lounge. They are connected to the mains, have a battery for back up purposes and are checked on a regular basis. There is a fire blanket in the Kitchen and an extinguisher at the entrance to the hall. There is a safety light left on in the hallway which has a battery backup if the power goes out.
We are a no smoking building but you are able to smoke on the patio area outside the dining room but please do not leave cigarette ends on the floor dispose of sensibly.
There are fridges in both bedrooms.
Contact information
Address: Bonners Lodge, Bee Cottage Farm, Waskerly, Consett Co Durham DH8 9HW
Telephone/Text +44 (0) 7946536934
Email: info@bonnerslodge.co.uk
Website: www.bonnerslodge.co.uk
Hours of operation. Closed Christmas Eve to Boxing Day open every other day. The B & B is our home so occupied 24 hours a day. Incoming guests are asked to check in between 5pm and 10pm unless other times have been arranged. Check out is by 10.30am. If you require to leave your car and luggage on departure day as walking or cycling in the area this is no problem.
A key is given to all guests so they can come and go as they please.
We welcome your feedback to help us continuously improve if you have any comments please email: info@bonnerslodge.co.uk